Install a new switch anywhere.
No wiring required.
While it looks like a wall switch and operates like a wall switch, what makes illumino WallMote 7 truly powerful is that it is really a remote control. Battery powered, you just need to stick it on a wall or surface to install it. Once synced with your hub, you can control any dimmer, switch or automation routine by using illumino WallMote 7 as you would any other switch.

Looks like a switch 
3 models. 1 distinct style. Whether you're in need of a simple switch or something with more capability, there's a WallMote that's right for your installation and the needed aesthetic.

Runs like a remote 
They might be installed upon a wall, but you don't have to install them within a wall. WallMote runs wire free. Its installation doesn't require a backing box nor mains power. Stick it. Sync it. Use it.

Long live batteries 
Wiring makes installing a new switch expensive. Batteries make installing a new WallMote switch cheap. WallMote is powered by a coin-cell battery.
Control one thing.
Or anything
Control lights. Control outlets. Control a whole room or a whole property. 
It may be styled like a wall switch, but WallMote is much more capable. Once setup with a compatible gateway it can be used to control anything that your gateway can. That ranges from single switches to dimmable light banks, from power outlets to the smart locks that protect your property. And even things that do not utilize the same Z-Wave wireless standard that WallMote does. Smart lighting from Philips Hue? Check. Connected music from Sonos? Easy. If it is connected to your gateway, simply setup WallMote to control any manner of simple or complex routine or automation.
What WallMotes 7 can control.
Install WallMote 7 within a wall box.
A seamless installation of WallMote 7 can be achieved using Aeotec's provided screwless-decora plate or a fascia of your own choice. Wall box installations of the square models of WallMote are not possible.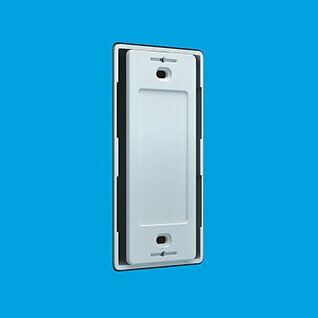 Affix WallMote 7's gang box plate to your selected wall box using 2 screws.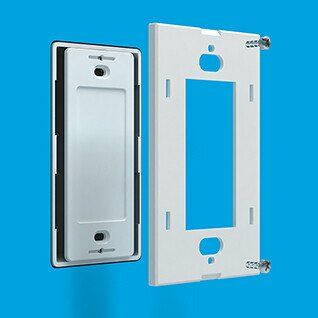 Screw WallMote 7's mounting plate to the gang box plate using 2 screws.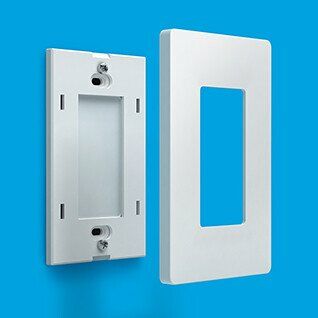 Firmly place Aeotec's screwless face plate against the mounting plate to lock it in place.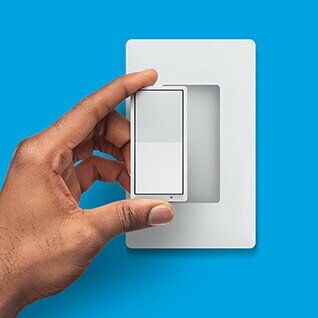 Place WallMote 7 into the centre, it will stay in place magentically and remain removable.
Install WallMote 7 upon a wall.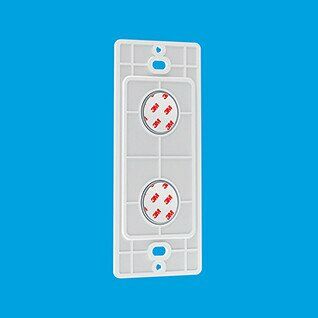 Peel off the adhesive protective sheet from the rear of WallMote 7's gang box plate.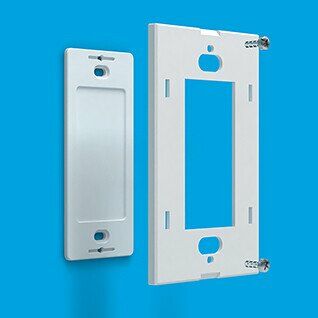 Affix the gang box plate to your chosen surface pressing it firmly in place for at least 5 seconds.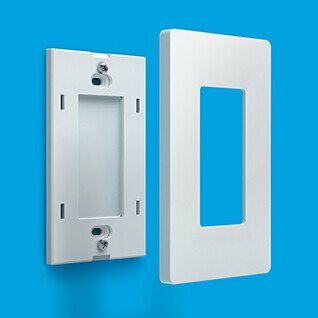 Screw the mounting plate and gang box plate together using 2 screws; attach Aeotec's screwless fascia.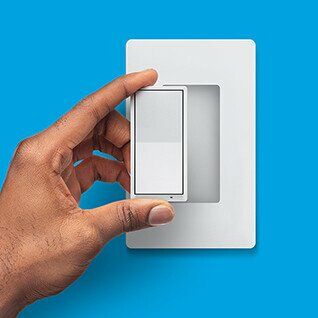 Place WallMote 7 into the centre, it will stay in place magentically and remain removable.
For more information on WallMote 7: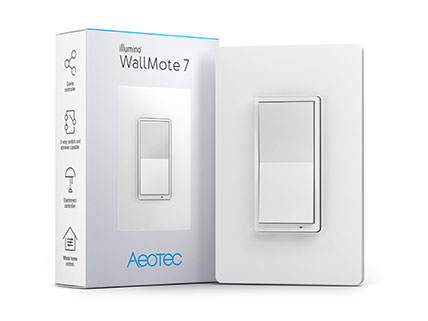 Control doesn`t stop here.
Aeotec's range of intelligent, automation controllers doesn't end with WallMote 7. From smart plugs to wireless wall switches, it's a range that keeps you in control and ensures that automation systems are always an intelligent enhancement.