Plug it. Automate it.
Control it.
Aeotec`s smallest smart plug ever is also everyone`s safest. Understand how much electricity you are spending.  Appliances turn on when needed and off when not. On a schedule. Or intelligently automated and triggered when needed. 
Smart Switch 7 is the smart plug that is the essential part of a smart home or smart office. Compatible with the broadest range of Z-Wave software, including AutoPilot and Smart Home Hub, Smart Switch 7 can be intelligently automated, scheduled, and time-use-limited from dozens of certified and compatible gateway systems and apps.

It's smart because it can be automated. And it's also smart because it's convenient: while software and schedules can control Smart Switch 7, you're always the one in control. Intelligent automation is perfection, but there are still times when you want to control a smart plug manually. From the discrete on / off buttons engineered into both the EU and US versions of Smart Switch 7, a compatible app or a Z-Wave remote control, Smart Switch 7's multiple control interfaces mean that you will always have on-demand control of whatever you plug in to it.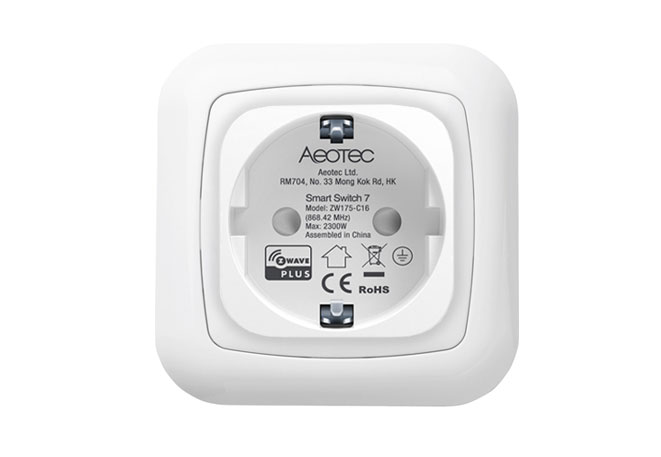 With 99% accuracy, Smart Switch 7 will record and report the electricity consumption which passes through it helping you save what you spend. 
With its utter accuracy, Smart Switch 7 can tell you exactly how much electricity the appliance plugged into is using. It's kWh and watts reports can be used to compatible Z-Wave systems to report how much money plugged-in appliances are spending.
Small without compromise, Smart Switch 7 is a marvel of engineering know-how. Aeotec's nearly 15-year know-how of making wireless plugs has allowed us to make Smart Switch 7 the smallest Z-Wave plugs to benefit from quality-leading German engineering and European safety certification from Intertek and SGS.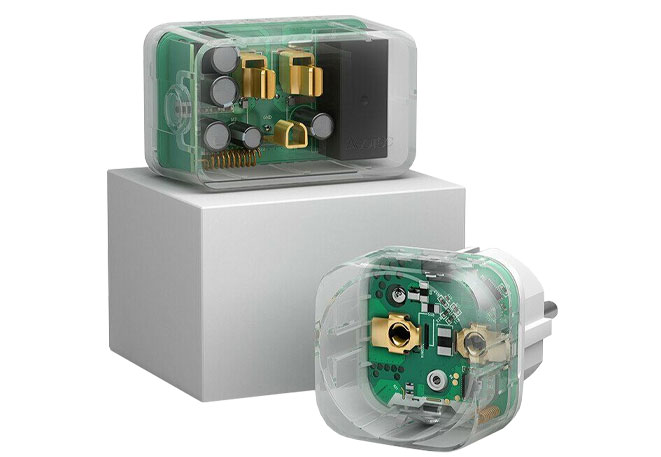 Upgraded for perfect control.

Gen7 inside
The type B edition of Smart Switch 7 has been exclusively engineered with a combination of Aeotec's Gen7 technology stack and 700 series Z-Wave.

Near-instant setup
Connecting Smart Switch 7 to a smart hub takes only seconds. With SmartStart built in, compatible gateways can wirelessly connect just by scanning the plug's QR code.

Securely upgraded
Smart Switch 7 uses 3 different layers of security, including Z-Wave S2, to render man-in-the-middle and brute-force hacking attempts virtually impossible.

Amazingly smaller
The EU edition of Smart Switch 7 is 63% smaller than its Smart Switch Gen5 predecessor while the US edition of Smart Switch 7 is approximately 30% smaller than its Smart Switch 6 predecessor.

Quality is in control
European design, German engineering, and European certification-houses make Smart Switch 7 the smallest, safest smart plug. 

Protects appliances 
Your electronics are safe thanks to its inbuilt surge protector. Engineered to CE and ETL/CSA standards, it protects from voltage up to 2,000 Volts that occur during surges, blackouts, and short circuits through ground. 

Protects the home
Turn your electronics off in the event of an emergency or a hazard. Smart Switch 7 lets you automatically turn off appliances, when they fail or in the event of an emergency.

Powerful switch
Tiny in size, uncompromising on safety, but still perfectly powered. Appliances up to 10A (EU: 220-240VAC) or 15A (US: 110/120VAC) of power can be plugged into Smart Switch 7.

Block free
Plugs that block multiple power outlets aren't just inconvenient, they're annoying. Both editions have been crafted to be little bigger than a standard power plug.
For more information on Smart Switch 7 (EU):
For more information on Smart Switch 7 (US):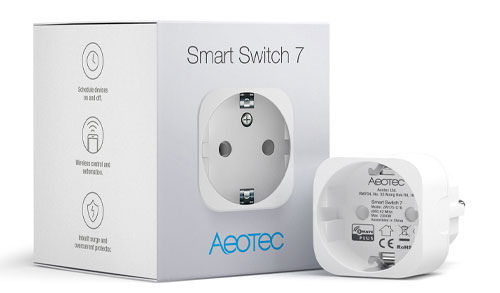 Control doesn`t stop here.
Aeotec's range of intelligent, automation controllers doesn't end with Smart Switch 7. From smart plugs to wireless wall switches, it's a range that keeps you in control and ensures that automation systems are always an intelligent enhancement.