NanoMote Quad. Remote Control. Home Control. One hand control.
Smart homes are all about control. Automated control. Responsive control. Voice control. App control. And, of course, remote control.  NanoMote Quad is home control simplified for the whole family.

Control your home.
With a push of a button.
Apps aren't always convenient. Voice control isn't always suitable. Remote controls are always on hand and always for everyone. With NanoMote Quad, everyone in your home has easy control of your smart home whether they're at home, coming or going.
NanoMote Quad communicate directly with your Z-Wave gateway. That means that they can control anything connected to that gateway, whether that's one device at a time or a group of devices all at once, even electronics that aren't Z-Wave.
What NanoMote Quad can control.
The control you need, always on hand.
Anywhere.
NanoMote Quad are simple to setup. Sync it with your Z-Wave gateway and then assign individual devices or Autopilot scenes to any button. More control isn't always a good thing. NanoMote Quad is the full package, offering 4 buttons capable of control up to 12 Autopilot scenes. 
At only 50x50x14 mm, they've been designed to slide onto a table, slip into your pocket or connect to your keychain. NanoMote Quad come with an optional, key chain loop for simple day-to-day portability as a Z-Wave key fob.
Remote controls don't have to be portable – they just have to be wireless. Like our WallMote Z-Wave switch, NanoMote Quad can be placed or mounted just about anywhere in your home. Whether it's beside your bed or somewhere else, NanoMote Quad make it easy to add simple smart home control anywhere in your home.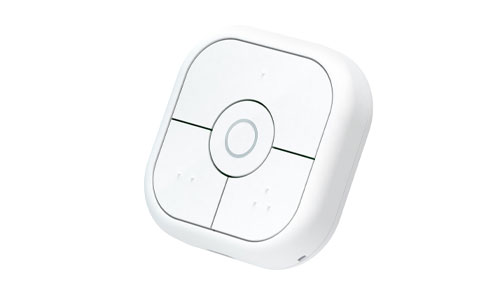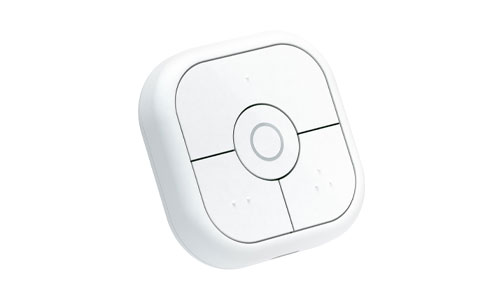 Accidents happen. But to ensure that NanoMote Quad isn't causing them, it's been crafted with an inbuilt pin lock. Simply hold down your secret combination of button presses to disable your NanoMote Quad and then do the same again to enable it.

Perfect wireless range. 
NanoMote Quad is designed to be used inside your home and outside of it. To make that possible, they need a wireless signal optimised for distance. It can communicate over distances of 328 feet / 100 metres, with signals repeated via Z-Wave when it can't communicate with your gateway directly.

Perfect battery life.
Aeotec knows the importance of rechargeable batteries in remote controls; it was the foundation of our best-selling MiniMote. NanoMote Quad build upon that, offering an even more compact battery with up to 6 months battery life alongside easy 5 hour recharging via USB.

Rechargeable and replaceable.
NanoMote Quad can be easily recharged via USB; but all batteries eventually get a shorter life span. When that happens, there's no need to replace your NanoMote. Simply remove the backplate, insert a new LIR2450 3.6 volt battery, and full, rechargeable battery life is yours again.

Ready for outdoors.
Designed to be portable, NanoMote Quad are ready for outdoors. Engineered to the IEC's IP54 standard, NanoMote Quad have been crafted with resistance against accidental exposore to water splashes and dust.

Cutting edge Z-Wave.
So that they can control so much of your smart home,  NanoMote Quad is crafted with Z-Wave Plus inside. That lets them control Z-Wave devices from any manufacturer along with older devices no matter which generation of Z-Wave they were built with.

Cutting edge security.
They can control entrances to your home such as garages and door locks, and they do so securely. NanoMote Quad includes Z-Wave S2, enhancing the remote control with 3 separate layers of security to help stop hacking, cloning, and unauthorised control.
For more information on NanoMote Quad: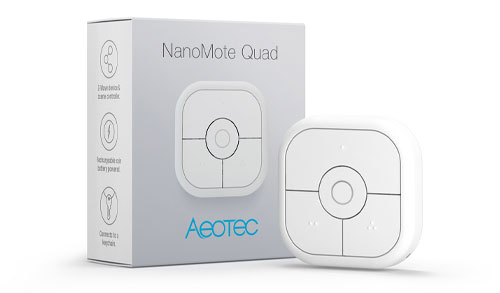 Control doesn`t stop here.
Aeotec's range of intelligent, automation controllers doesn't end with NanoMote Quad. From smart plugs to wireless wall switches, it's a range that keeps you in control and ensures that automation systems are always an intelligent enhancement.