With just one touch of a button.
The Aeotec Button allows you to control compatible light sources, household appliances and other smart home devices at the touch of a button. The three selectable control actions (tap once, tap twice, press and hold) allow you to control multiple devices, covering a wide range of applications.
Stylish design.
Simply mounted.
Stylish design, simply mounted. With a width of only 41mm, the Aeotec button is nearly invisible and fits in harmoniously everywhere due to its simple design. The Button has has magnetic backside. So place the Aeotec Button on a flat surface or simply mount it on your fridge or wall.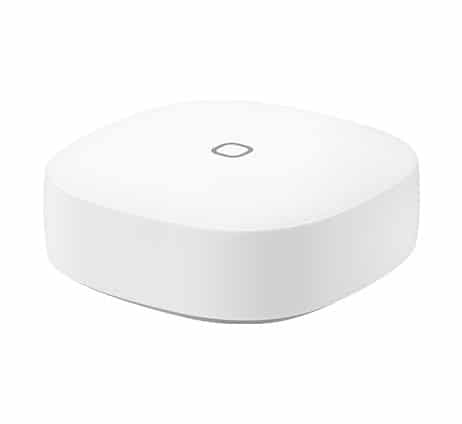 Place the Aeotec Button in the exit area of your home and easily create a routine for leaving the house. When you leave the house, press the button and ask the compatible smart shutter control to shut down the shutters or the compatible smart thermostats to reduce the heat level. Save valuable time and energy with just one press of the button.
From now on you will always know when the temperature in your home changes and can leave the rest to your smart devices. With the SmartThings App you can see the temperature in real time and use your air conditioning, heating and other compatible smart devices to restore a comfortable atmosphere in your home.
For more information on Button:
Control doesn`t stop here.
Aeotec's range of intelligent, automation controllers doesn't end with the Button. From smart plugs to wireless wall switches, it's a range that keeps you in control and ensures that automation systems are always an intelligent enhancement.